AppLoader – application loader for control systems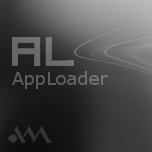 The programme serves to load applications created in the DetStudio environment into control systems and programmable controllers made by AMiT. Applications are loaded into control systems by means of *.abs files, in controllers by *.bin files. AppLoader is able to work in two modes – GUI mode where the user operates it in the programme window, or in the Auto mode in which the programme is launched with a parameter and a corresponding configuration file. The Auto mode is suitable for service purposes when a user with no knowledge of the DetStudio environment or the ViewDet service tool is able to restore or update the application.
When loading the application, AppLoader makes automatic backup of variable values and their repeated writing. Moreover, the programme also supports the function of automatic search of selected control systems and controllers on Ethernet.
Recommended PC configuration:
MS Windows XP SP3 and higher
.NET Framework 4.0 and higher
10 MB space on the drive for the actual application
Another 10 MB of space on the harddrive for temporary files during installation
Administrator authorization level granted during installation (to copy and register of system components and DLL)
AppLoader installation procedure:
Download the file.
Save the file into any directory on your harddrive.
Run the installation file in this folder and follow the instructions of the installation programme.
The file installation requires administrator authorization on the computer, however, the programme runs under common user authorization.