SnapArc – Archive download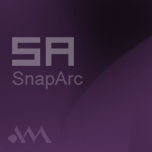 SnapArc is a software tool for downloading archives from control systems and freely programmable controllers to the computer harddrive. The programme allows the user to save archives into files type *.txt, *.csv or *.mdb. The  user may download multiple archives from multiple system at the same time in one initialization. The data to be downloaded, their locations and formats are defined by means of the configuration directly in the programme environment.
An interesting function is the option to launch the SnapArc programme in Planned Tasks and therefore provide continuous archive download in the background.
System requirements:
MS Windows environment supporting the Microsoft .NET platform.
Installed package Microsoft .NET Framework version 4.0
10 MB free disk space for the actual SnapArc application.
Another approx. 10 MB free disk space for temporary files during the installation.
Administrator rights granted during the installation (for copying and registration of system components and DLL).
SnapArc installation procedure:
Download the file.
Save the file into any directory on your harddrive.
Run the installation file in this directory and follow the instructions of the installation programme.
It is necessary for the user to have administrator rights on the computer during installation. For everyday operations, user rights are sufficient.