AWDet – control systems web presentation editor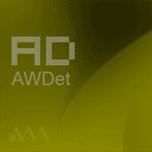 The AWDet parameterisation environment makes it very easy to create web presentations (simple visualisations) of control systems and units with an integrated web server. AWDet allows the user to make up websites from pre-made components using a WYSIWYG system (what you see is what you get), to generate compiled websites into a form that can be processed by a web server and store the websites into control systems and units with integrated web servers.
Website creation
an intuitive WYSIWYG editor
a set of pre-defined components for website design
abundant options for component properties settings
import of variables and communication parameters from projects created in DetStudio
importer of pictures for the administration of graphic elements used and website optimisation
sending e-mails (reports, archives, etc.) based on the process variable values
recording values of selected variables (logging) on an SD card with the option of remote reading via FTP access
development environment and training free of charge
Communication with control systems and web servers
intuitive environment for configuration of units and control systems with a web server
easy transfer of a finished project into a selected server
option to work Offline – generating a project into a directory in the PC with a subsequent manual transfer
The AWDet design environment is distributed free of charge!
Recommended PC configuration:
MS Windows 7, Windows 8 and 8.1, Windows 10 (32bit, 64bit)
screen resolution at least 1024×768
.NET Framework 4.0 and higher
a network interface controller
AWDet installation procedure:
Download the AWDet installation file and run it. Then continue according to the installation guide. The required free disk space is approximately 35 MB.