Venue: OM Protivín
Country: Czech Republic
Year: 2015
Segment: building automation, industrial
Implementation partner: 4 Lighting s.r.o.
---
OM Protivín is located in Protivín, Czech Republic. The company was founded in 1903 as a company specialising in machining complete gearboxes and components for the motorcycle industry. In 1997, OM Protivín became a self-governing division of the Bondioli & Pavesi group. Today, the company concentrates on the production of precision gears for the motorcycle industry and gearboxes for agricultural and industrial applications.
AMiT company equipment is used as a data collection extension system and a remote control system including a web server and visualisation of lighting control in industrial sheds. Operation and lighting control was implemented using wireless components featuring Poseidon 868 MHz system.
Utilised components: AMR-CP24/01, P8 TR 2 U DIN, P8 R DALI N, P8 TR PS W
---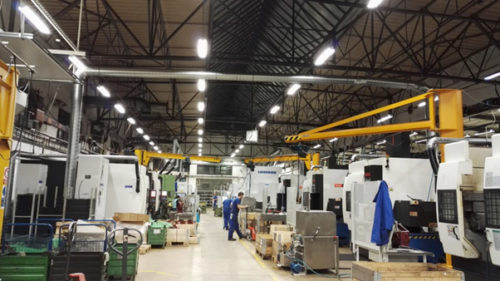 Â