Brief introduction to our online ordering system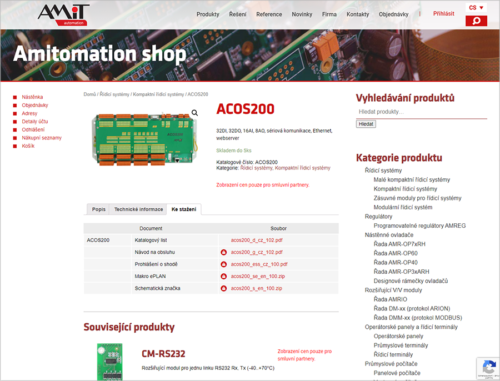 Product catalogue – all users can access our product catalogue by clicking Shop on the website main menu. To continue to the catalogue, select one of the product categories or one of the newly added products. It is also possible to search for products via the search field located above the product categories.
Product detail – Apart from pricing, the detail page also contains further technical information and complete up-to-date documentation. Some product pages also contain accessories and extension products for the given product so that you do not forget vital elements for your automation project (e.g. batteries or extension modules).
Prices – the prices you see in the e-shop are end-prices for the general public. Our partners see the prices lowered by discounts (see below for more details).
Stock information – each product page contains information on product availability. "In stock" means that the product can be promptly dispatched to our customers. "≤5 in stock" means that larger orders can be delayed due to insufficient stock; it is also necessary to take into account orders of other customers that may deplete the rest of products in stock. "On backorders" indicates that the product is not in stock. The availability of the product will be specified either after placing an e-shop order or upon contacting us; it usually means 4 – 8 weeks.
Shopping lists – this function is especially useful for repeated orders of the same list of products. Adding products from a shopping list is much faster than listing through the whole catalogue. The shopping lists also help with price calculations – the total list price is updated upon adding or removing a product. To add a product to a list, click the "Add to list" button located next to every single product in the catalogue – you need to be logged in to use this function.
Shipping address – you may change your default shipping address upon placing the order. Please note that shipping fees may differ if you change the destination country.
Overview of past orders – it is possible to view all your past orders and check their state. Bear in mind that this is not a full e-shop but merely a sophisticated system for placing orders in a swift and comfortable manner. Every order needs to be checked by our sales department who then contact you with more details regarding payment details, shipping etc.
We hope you find the e-shop functions sufficient and comfortable to use. We will be happy for any feedback regarding your experience or potential ideas for improving the site.
Partnering up with AMiT
We are looking for partners abroad!
Do you think the prices could be more agreeable? Are you a representative of a company that could use our devices in their projects on a regular basis? Let's join forces!
What's on offer? Apart from favourable prices, it is our expertise, for example. Be that our superb technical support or our marketing expertise, our partners can expect our full attention when necessary. Besides our usual solutions, we may even help you tailor an application to your specific needs.
See Partnership with AMiT for more details.